All signs are pointing toward … the weekend. Welcome to Saturday, and welcome to your weekend edition of The Style Guide In Brief. If you're just joining us today, welcome! This is a shorter take on my main Brooklyn style blog, The Style Guide — the name is a pretty apt one, yes? At any rate, we're here to power your weekend with some easy listening and some crucial shopping — and of course, coffee and adventure-minded scenery & gear (a la the Taylor Stitch Drop Point Knife at the top of the page). Summer is rolling right on by, and with that in mind, let's get started.
What To Listen To This Weekend: "Kyoto" by Phoebe Bridgers
It's tough to say anyone's having a "good year" in 2020, but Phoebe Bridgers has had … an alright one, at least? The indie rock luminary just released her fantastic second album, "Punisher," she's got legions of adoring fans (myself among them) and her irreverent & hilarious Twitter account perfectly captures so much of what it's like to live in, well … *gestures broadly at the world* … if you follow her, you know what I mean! Phoebe is phenomenally talented, she's an amazing lyricist, and she's put out what you might call the rare "uptempo Phoebe Bridgers" song with the cruising "Kyoto" — one of my favorite songs this year. It's almost tough to do it justice, so I suggest you listen (and watch!) above. Of course, you should also check out her debut, 2017's emotional and lilting "Stranger in the Alps," plus her successful indie folk duo with veteran rocker Conor Oberst — that'd be Better Oblivion Community Center. Heck, did I mention she *also* teamed up with fellow indie rockers Julien Baker and Lucy Dacus for boygenius, an incredibly moving 2018 EP and accompanying tour? Because she's done all of that, too. It's enough to make anyone's head spin — who knows what she'll do next. I'll be listening … you should, too.
What To Shop Right Now: Converse Chuck 70 High-Tops in Black
Head on over to Todd Snyder to pick up what you might call a fittingly Phoebe Bridgers-inspired pair of black high-top sneakers. Seriously, Converse sneakers are a tried-and-true, Phoebe-approved style pick (one would imagine). They're also classic as it gets — these draw inspiration from the 1970s. Nowadays, I prefer to wear my high-top sneakers to, of course, an indie rock concert (when the time allows again). You can wear this pair right now with light wash jeans and a band tee to grab a to-go beer, or you can wear these cool summer sneakers with dark blue jeans and a denim shirt for socially distanced seasonal hangs.
What To Sip This Weekend: RISE Brewing Co. Nitro Cold Brew
I've had the good fortune to try out some delicious canned cold brew over the years, and from RISE Brewing Co. in particular. Coffee purists might not like the idea of canned coffee, but in the summer heat, when you're on the go or need something quick, it's tough to pass up RISE Brewing Co.'s Nitro Cold Brew. Flavorful, nuanced and featuring a cool can design, it's a great way to enjoy your cold brew this summer. It's smooth, it's creamy, it's got a heck of a jolt of caffeine … it's about as good as it gets for coffee on the fly. Get a 12-pack at Huckberry … and be prepared to restock in a hurry.
The Final Pick: Cantonment Kerchief Set
These days, stylish face coverings really are all the rage — and it's important as ever that you continue to wear one when out and about. But what if I told you there was a new brand that had mastered the tricky art of the stylish face covering — in fact, one that goes beyond just a face covering and transforms into an everyday, do-it-all, adventure-ready piece of gear you won't want to leave home without? That's what Cantonment, launched earlier this summer, has managed to do with the Cantonment Kerchief Set. For starters, you get two handy, stylishly designed kerchiefs — made out of soft cotton and featuring modern designs, naturally. There's more: The kerchief gets an upgrade via a specially designed slot and a tough nylon "woggle" to go along with it. The woggle is almost like a mini-nylon watch strap, meant to be weaved through the slot to turn the kerchief into an all-purpose companion. Wear it around your neck, use it as a face covering, throw the extra one in your back pocket or tie it onto your belt loop using said woggle. Heck, you should assuredly grab at least one set of two — if not more. You won't want to leave home without your Cantonment Kerchief Set (I should know — I've been testing the brand!).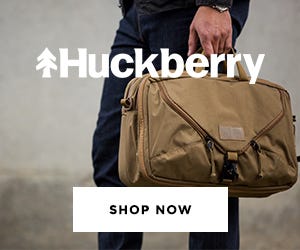 My friends, thanks for coming along for the ride on your second Saturday edition of The Style Guide In Brief. If you haven't had the chance to hop over to The Style Guide itself to check out my Style Pick of the Week, well, you've got all weekend to get that done. For now, I'm going to fuel up with some cold brew and listen to Phoebe Bridgers. Cheers, folks!