Find me way out there
There's no road that will lead us back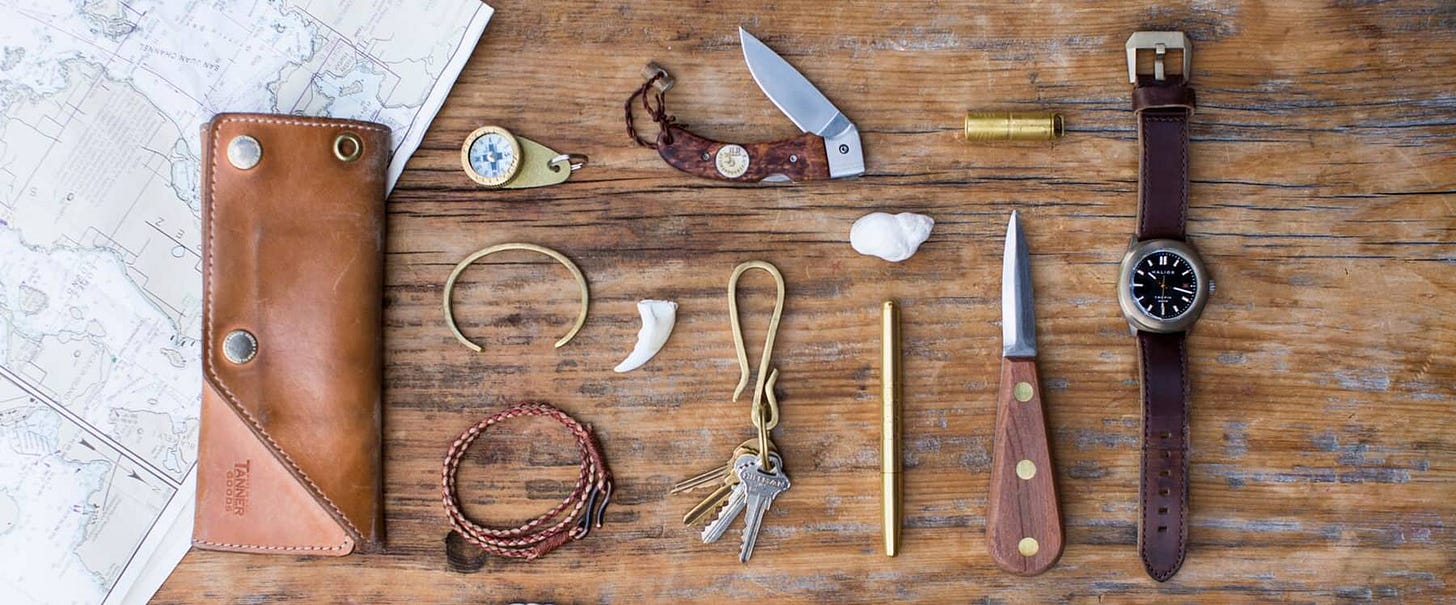 If you're a fan of rugged adventure, if you're a fan of music and gear that leads you up and over and through "strange trails" (a la indie folk rockers Lord Huron), today's edition of The Style Guide In Brief is exactly what the doctor ordered. After all, there's plenty of exploration and fall-minded fun to be had "way out there" this season, and it's what I'm looking forward to the most as we move into September (as I said last weekend, hey, seasons change).
My relaxing Florida getaway is soon coming to an end (after Labor Day!), so I'm starting to get back into what you might call the "fall in Brooklyn" mindset. That means I'm gearing up with everyday carry essentials like the above picks from Huckberry, I'm ready to throw on a Patagonia chore coat (more on that in a second), and I've got my eye on some rugged Filson boots (again, more on those below). Naturally, I'll also give you the lowdown on a beer to buy for Labor Day weekend. If those all sound like fall gear picks you can use, you're going to enjoy today's post. Without further ado, welcome to Saturday at The Style Guide In Brief.

What To Listen To This Weekend: "Way Out There" By Lord Huron
There's perhaps no band better suited to serve as the soundtrack to your early fall excursions and adventures than Lord Huron, IMHO. You might recall these soulful indie folk rockers (led by Michigan native Ben Schneider!) from the very first entry of The Style Guide In Brief. I hope you've been listening since then — I certainly have. My walks in Brooklyn's Marine Park are often soundtracked by the sounds and visions of Schneider & co. — 2015's "Strange Trails," the band's lauded sophomore effort, is as good as it gets for inspiring wanderlust. It really is packed with stellar songs, including the wildly popular "The Night We Met" (my personal favorite off the album is "Frozen Pines," of course). The album weaves stories of fictional characters on the great frontier somewhere long ago (or in the future!?), painting an entralling and enchanting narrative that transports you to another time and place entirely.
Of course, "Way Out There" personifies this approach, singing of "strange trails" and "wearing old bones" en route to meeting one's maker. To me, it's about destiny, it's about adventure, it's slightly terrifying but at the same time, oddly comforting … kind of like the moments we stumble across every day through adventures big and small. See what I did there? Still onboard? Good. Let's talk about the gear to get you there now.
What To Shop This Weekend: Patagonia Iron Forge Hemp Chore Coat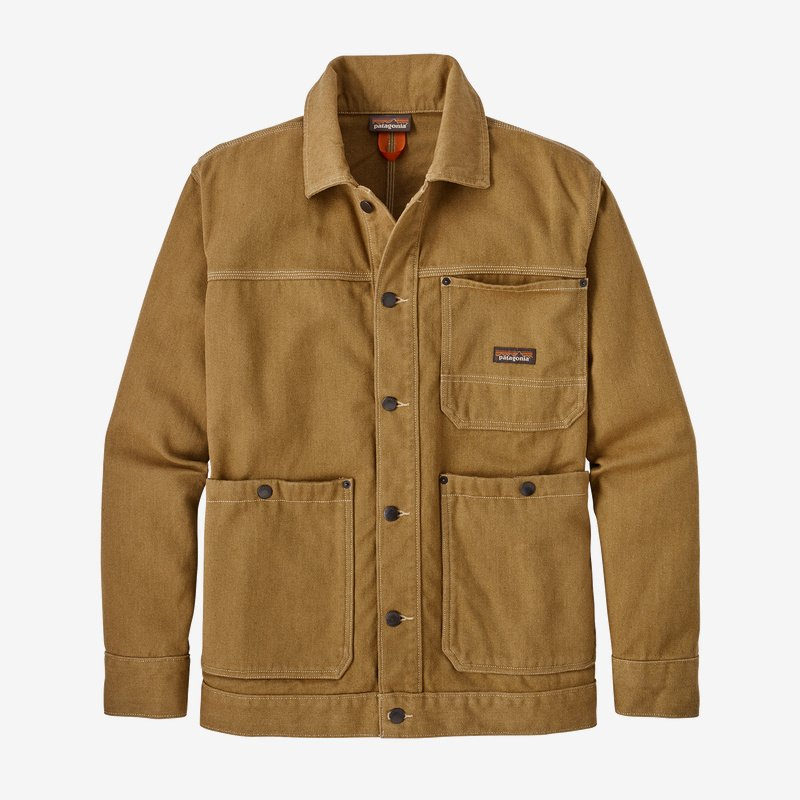 So, speaking of gear for out on the trail, along the water's edge or up in the mountains … how about this sustainable, rugged chore coat from Patagonia, ehh? The legendary brand has focused on sustainability and utility since its founding, and the Iron Forge Hemp Canvas Chore Coat carries on that lineage quite handsomely as we head into fall. Made from Patagonia's proprietary 12.9-oz Iron Forge Hemp™ canvas fabric — think superb abrasion resistance and toughness in fall weather — this jacket is utilitarian and yet stylish all the same. This tough chore coat makes use of hemp, a wonder fabric that regenerates the soil it grows in, plus recycled polyester and organic cotton. In short, it's your new favorite fall jacket, and I'd strongly urge you to wear it with a Patagonia henley and chore pants the next time you head out on a day hike. Throw on some Lord Huron for the day as well, will ya?
Shop Patagonia
What To Sip This Weekend: Cigar City Jai Alai IPA via Drizly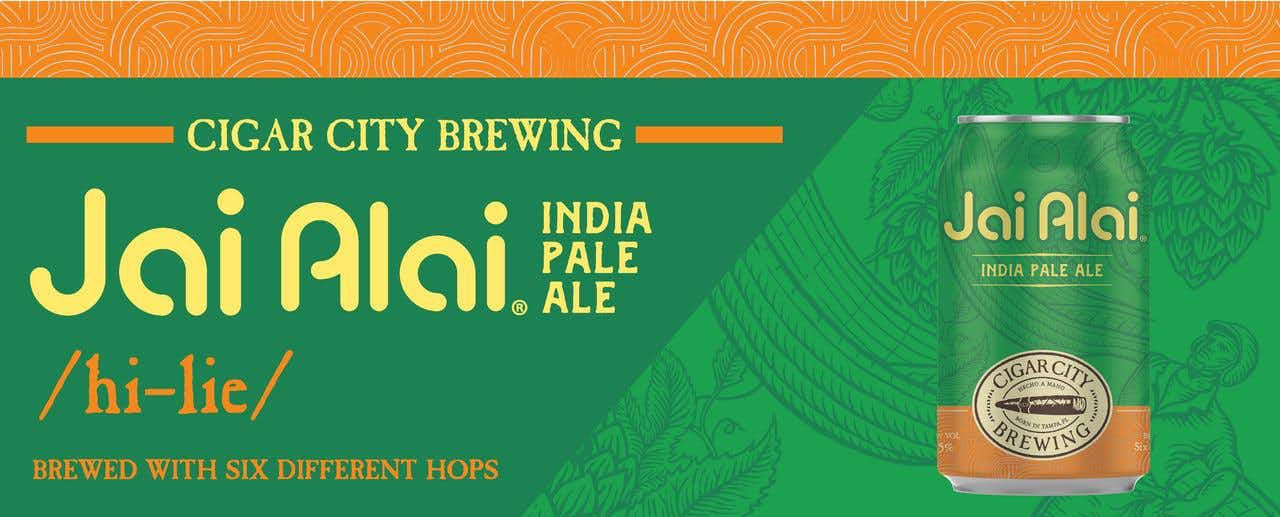 Here's the deal, folks. Perhaps you, like me, have been on the hunt for a quick way to get your favorite spirits delivered to your door during these last several months in quarantine. I found a solution nearly right away via alcohol delivery app & Web store Drizly, a surefire way to get your favorite beer and spirits sent right to your doorstep in as little as an hour (if the proper stores near you are participating, that is). All of which is to say: Drizly is a heck of a great way to get the never-not-excellent Cigar City Jai Alai IPA, a regional favorite out of Tampa Bay that I've taken to enjoying during my time in Florida. It's crisp, it's got pleasant citrus flavor and a classic IPA finish, and it's as suitable a beer for happy hour as any this weekend. Head over to Drizly to get yours now, and pack a few in your cooler for your next outdoor adventure.
The Final Pick: Filson Service Boots 2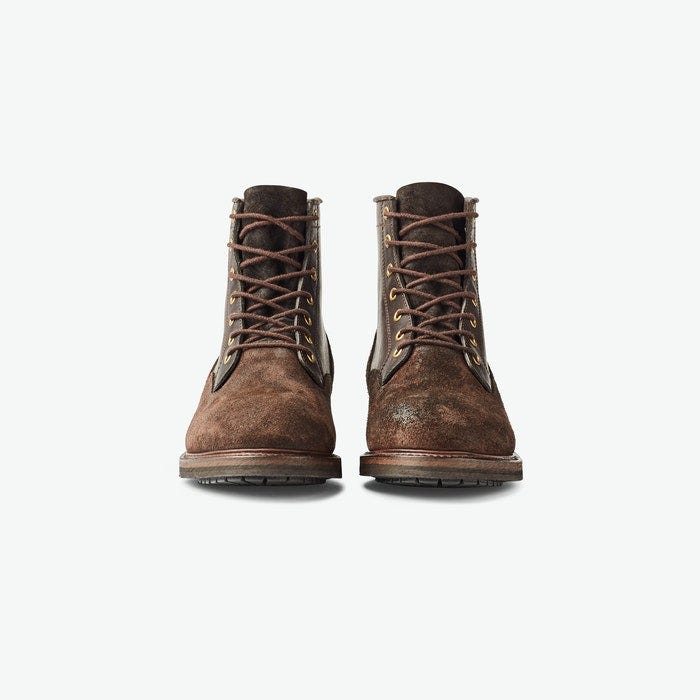 See, I told you we'd get around to talking about the best leather boots for a fall adventure, ehh? And y'know what's even cooler? A hint: It has to do with Lord Huron. While I can't confirm that frontman Ben Schneider wears Filson boots, I can indeed confirm that he appreciates a good suit, a stylish Western hat and brown leather boots (as seen in the band's 2018 House of Blues concert). Suffice to say, I think our man would dig the Filson Service Boots 2. Heck, I think you're going to dig these tough leather lace-up boots (featuring a blend of smooth and roughout leathers) for your next off-trail hike, camping trip or park stroll. How about it, ehh? Go on, get your new favorite boots for fall, my friends.
So, here we are. Today's newsletter is wrapping up with just enough time for you to plot your next early fall adventure. I'm dreaming of an upstate getaway in the weeks ahead, and of course, I'll be packing gear picks that are mighty similar to the Filson Service Boots 2 and the Iron Forge Hemp Canvas Chore Coat — how about you? For all those adventures on strange trails and off, I'll also be listening to Lord Huron and plotting my next move. In the weeks ahead, that involves a heck of a lot of writing for Maxim and GearMoose, with plenty more on the way in the future. In the meantime, you can always head to my regular blog, The Style Guide, to get men's style content seven days a week. Thanks for reading and subscribing — it's so appreciated.