Let's start the week off right, folks (no, not with the Bespoke Post cocktail kit shown above — not until happy hour, at least). Another Tuesday edition of The Style Guide In Brief has just landed in your inbox by way of Brooklyn, and I promise you,' we've got a lot of ground to cover today. August is rolling right on through in full force — but you already know that if you've been keeping up with my blog and my summer style picks. And soon enough, we'll be planning for the best season in menswear and gear — heck, the best season in general: Fall (well, early fall, at the very least). Expect much more on that front. For now, let's talk tunes, gear and more. Thanks for sticking around.
What To Listen To This Week: "Quitting You" By Arkells
Everyone's favorite Canadian rockers are back. Not familiar with Arkells? I think you certainly should be. These rockers to the North — hailing from the gritty town of Hamilton, Ontario and led by soulful frontman Max Kerman — put on a blazing live show and turn things up just as much in the studio across a decade-plus string of albums. Except, that is, when they unplug and deliver a sweet-yet-rocking ballad like "Quitting You." Released last week, it's a fine introduction to a band that has some positive barn-burners in its discography (2014's "High Noon" is my personal favorite album), followed closely by 2018's "Rally Cry"). The band embodies the spirit of Springsteen and the joy of rock n'roll, Motown and everything in between.
Seriously: This is thoughtful, energetic, passionate music with real meaning and power. Having seen Arkells play everywhere from Austin City Limits 2018 to lauded NYC venues like Bowery Ballroom, and having met the band three times (Max included!), I can assure you they're true stand-up guys, hardworking rockers and talented-as-heck musicians. In fact, they were worth getting on a plane to Vancouver in February 2019, where I saw them play to a hockey arena full of Canadian diehards. A band that fills sweaty NYC clubs and powers through sold-out arena shows back home? I'll take some more of that, please.
What To Shop This Week: Buck Mason Costa Tee
Whether you read my blog or read my newsletter, you know I appreciate and recommend Buck Mason frequently (starting with the first edition of this newsletter, in fact!). Based in Los Angeles, they specialize in timeless menswear that any guy can wear — after all, everyone looks great in a stylish lightweight T-shirt, especially one like the Buck Mason Costa Tee. It's one of the best lightweight tees out there at the moment, available in easily wearable colors like Iron (as shown above) and the seriously cool Faded Blue Venice Wash. The real kicker? The proprietary, lightweight knit cotton, made to feel like you've had it for years (as soft as silk). If that sounds like a new Buck Mason summer essential, you're in luck.
Shop Buck Mason
What To Sip This Week: Whiskey from the Whiskey Peaks Mountain Decanter
OK, so perhaps this one is a bit more of a DIY approach than past drinks picks here at The Style Guide In Brief. Definitely file this one away for happy hour, but once you've figured out your new favorite whiskey to buy, I'd suggest you store and serve it in the seriously cool Whiskey Peaks Mountain Decanter from my good friends at Huckberry. Whiskey Peaks upgrades your whiskey glasses by handblowing raised topograhic impressions of notable national parks within each glass (you'll have to see it to believe it). It's a seriously cool approach that just so happens to be a great way to improve your home bar. As to whiskey I'm enjoying at the moment? You can never go wrong with TINCUP Rye, served on the rocks or neat — served out of your Whiskey Peaks Mountain Decanter, in fact.
The Final Pick: United By Blue Recycled Utility Shirt
It really is hard not to love what Philadelphia-based United By Blue continually does with its approach to crafting the best gear for men and women. Each product sold helps remove trash from oceans and waterways (the brand puts on multiple clean-ups throughout the Northeast and elsewhere each year). And when it comes to making the best menswear, the brand practices that ethos, too. Take the Recycled Utility Shirt shown above. Made with organic cotton and recycled polyester, it's a durable, rugged shirt for late summer and early fall (and beyond that). Think of it like an upgraded chambray shirt, complete with both a riveted chest pocket and a front buttondown chest pocket for your everyday carry. Plus, it just looks darn good. Style and sustainability? What could be better than that?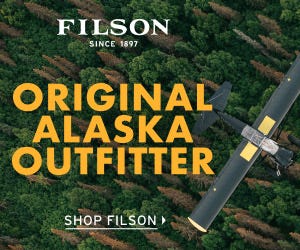 Thanks once again for scrolling through and reading The Style Guide In Brief — I sincerely appreciate it! And I hope you're ready to take on the week in style with new tunes from Arkells at the ready (and a great whiskey cocktail on hand for happy hour later, too). If you like what you see, and you'd like even more, you can always give me a follow on Twitter — and of course, the really good stuff happens over at my blog, if you're so inclined. Until Saturday, my friends!